1 April 2022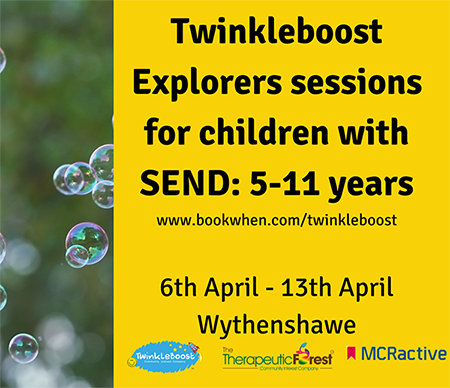 Join us for Twinkleboost Explorers sessions for children with SEND in Wythenshawe this Easter!
Twinkleboost Explorers are multi-sensory, forest school inspired sessions delivered by Speech and Language Therapy Assistant. We will be exploring the outdoors, cooking our dinner over the fire and doing some activities and playing some games.
Sessions are supported by a Forest School Leader and Adventure Therapy Assistants and are adapted to support children's needs.
Booking is open initially for children eligible for free school emails. Sessions are fully funded, include a lunch and last for 2.5 hours.
Sessions take place at 10.30am and 1pm:
Wednesday 6th, Thursday 7th and Friday 8th April: Baguley, Wythenshawe Children's Centre
Monday 11th, Tuesday 12th, Wednesday 13th April: Sharston, Wythenshawe Children's Centre
Book your place here: www.bookwhen.com/twinkleboost
Our Climbing Session details:
Climbing Calm sessions for children aged 11-18 years with additional needs at Parthian Climbing Centre, Manchester.
Wednesday 13th April and Thursday 14th April
⭐️ 9am-11.30am
⭐️ 11.30am-1.30pm
⭐️ 2pm-4pm