21 June 2022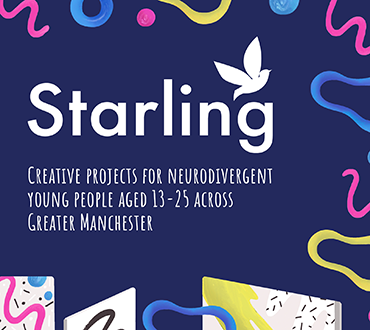 Hello!
We are a group of neurodivergent artists & creatives based in Greater Manchester. We run creative arts workshops for neurodivergent young creatives
aged 13 to 25. We are looking to connect with young people to take part in our free workshops.

Neuro-what?! Neurodivergent means having a brain that works differently e.g. Autism, ADHD, Dyslexia, Dyscalculia, Dysgraphia, Dyspraxia, Tourettes,
Learning Disability, Mental Health & many more.

All neuro-types are welcome! Those with a diagnosis & self-identifying, too! No experience needed - we are a relaxed & friendly group bringing
neurodivergent people together to explore creativity & learn new skills.

Each workshop is led by a professional artist & supported by other lovely creatives. We try out loads of different creative stuff like….
- Visual arts (e.g. painting, drawing, making, designing, print-making, ceramics)
- Digital arts (e.g. animation, character design, illustration, film-making, gaming)
- Performing arts (e.g. music, drama, movement)
- & more!
Send us an email or say hello on social media to connect with us & find out more!
And remember: great minds don't always think alike…
-The Starling Team